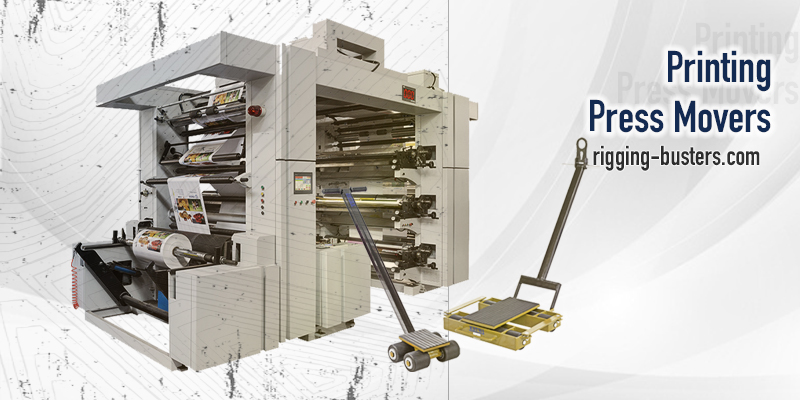 Regarding printing equipment movers in Toronto, ON, CA, look no further than Rigging-Busters, your reliable choice for moving industrial printing equipment.
With a team of highly trained professionals, we guarantee that your machinery is moved safely and efficiently…
Our specialized services are tailored to meet the specific needs of commercial printers, offset lithography operators, and large-format printing providers in the bustling city of Toronto.
---
Comprehensive Printing Press Moving Solutions
As specialized machinery movers with extensive experience, we offer a broad range of services for moving different types of printing machinery.
Our services include but are not limited to:
– Offset Printing Equipment Movers
Our secure and smooth relocation services for offset printing equipment are designed to minimize downtime and keep your business running.
– Digital Printing Equipment Movers
Utilizing advanced tools and techniques, we safely transport digital printing machines to their new locations.
– Large Format Printing Equipment Movers
With expertise in handling large format printers, we manage the relocation with precision and care.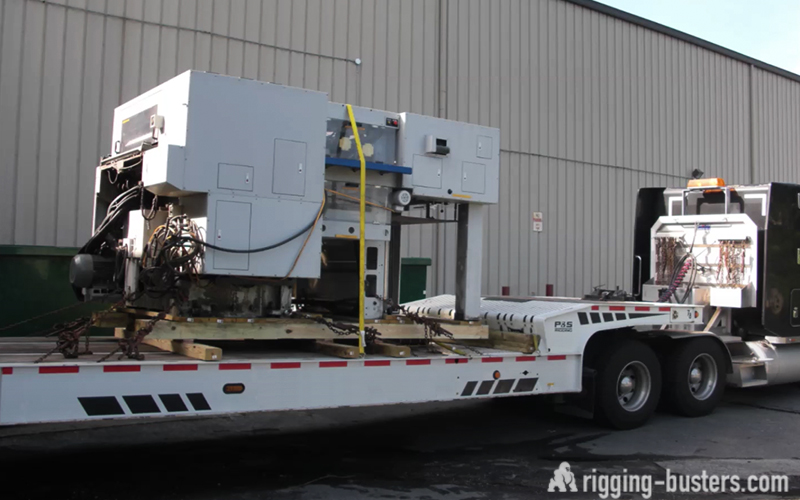 ---
Why Choose Us
As Ontario's go-to printing machinery moving service, we pride ourselves on serving various industries with efficiency, reliability, and a focus on customer satisfaction.
Our services are backed by the following:
Machinery Moving Expertise: With many years of experience in the industry, we tailor our machinery moving solutions to your needs.
Highly Trained Team: Our team is skilled in handling delicate and easily broken equipment, ensuring that it's transported safely.
Reliable and Secure Services: Using comprehensive security measures, we guarantee that your printing press and other equipment are transported securely.
Cost-Efficient Solutions: Our budget-friendly and efficient relocation services are designed to save time and money. We accept cash and cashless in CAD (C$) 🙂
Automatic Screen Printing Press Moving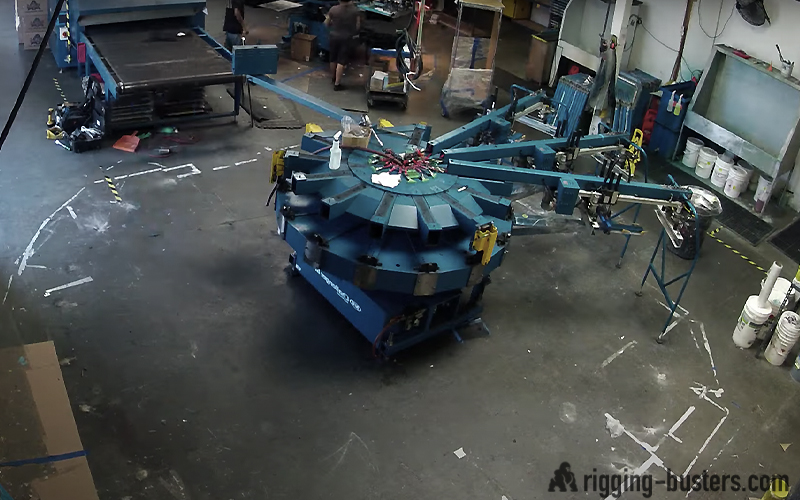 ---
Heavy Equipment & Machinery Movers
At Rigging-Busters, we're not just printing press movers.
We also provide exceptional services for moving heavy equipment, including construction machinery and machine tool manufacturers' products.
Trust us to handle all aspects of your industrial moving needs in Toronto, CA.
One of the Machine Tool Manufacturers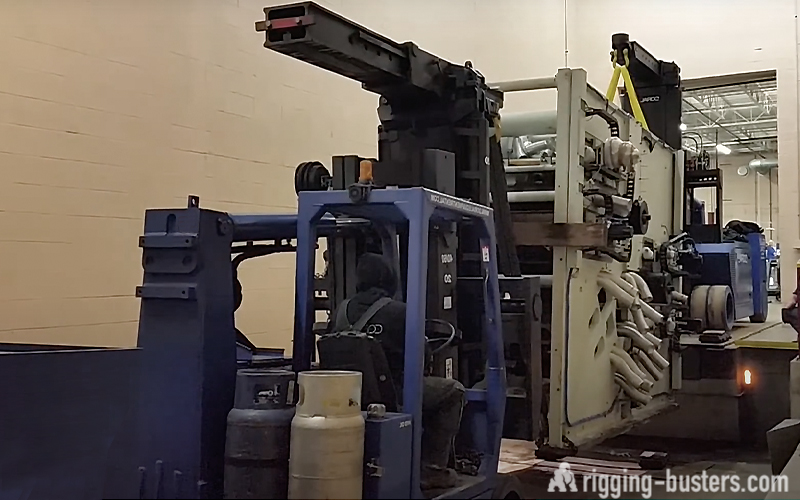 Machinery Moving Process (Facility in Ontario)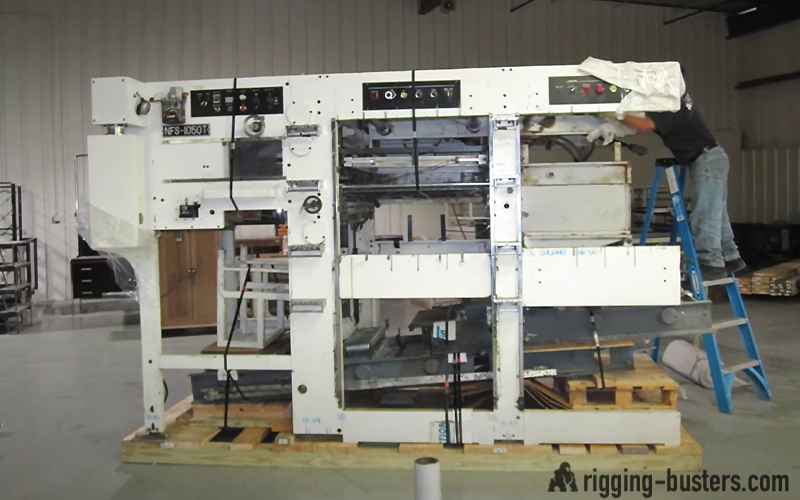 ---
Customer Feedback
Hear from satisfied customers who've taken advantage of our Top-Notch Printing Equipment Movers and related services.
Their positive experiences are a testament to our commitment to excellence.
Heavy Equipment Movers in Toronto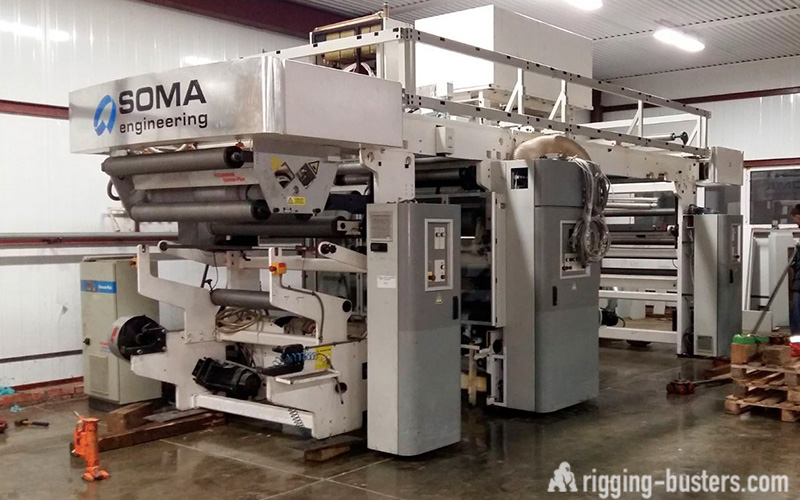 ---
Contact Us Today
Contact us today for a full-service printing equipment relocation in Toronto or specialized storage solutions.
Let our efficient, professional, and experienced team deliver the industry advantage you need for all aspects of your printing equipment move.
We serve businesses of all sizes and support your success in the fast-paced printing world.
Call Right Now
Ready to move your printing press in Toronto, ON?
Contact Rigging-Busters now for a FREE quote or to schedule your move.
Let us take the stress out of moving your valuable printing equipment.
We're here to help every step of the way…
---
Service Area based in Toronto
Our base in the Greater Toronto Area, Ontario, Canada, covers the 250 km radius service area 👇
The key cities for us within the Toronto service area:
| City | Province | Postcodes |
| --- | --- | --- |
| Ajax | ON | L1S, L1T, L1Z |
| Belleville | ON | K8N, K8P, K8R, K8V |
| Bowmanville | ON | L1C |
| Bracebridge | ON | P1L |
| Bradford West Gwillimbury | ON | L3Z |
| East Gwillimbury | ON | L0G |
| Gormley | ON | L0H |
| Innisfil | ON | L9S, L9T, L0L |
| Kawartha Lakes | ON | K0M |
| Kingston | ON | K7K, K7L, K7M, K7P, K7R, K7K |
| Markham | ON | L3P, L3R, L3S, L6C |
| Newmarket | ON | L3X, L3Y, L3Z, L9N, L9S |
| Oshawa | ON | L1G, L1H, L1J, L1K, L1L, L1J, L1H, L1G |
| Peterborough | ON | K9H, K9J, K9K, K9L, K9J |
| Pickering | ON | L1V, L1W, L1X, L1Y, L1Z |
| Port Perry | ON | L9L |
| Quinte West | ON | K8V, K8N |
| Richmond Hill | ON | L4B, L4C, L4E, L4S, L4S, L4S, L4S, L4S |
| Schomberg | ON | L0G |
| Toronto | ON | M1B, M1C, M1E, M1G, M1H, M1J, M1K, M1L, M1M, M1N, M1P, M1R, M1S, M1T, M1V, M1W, M1X |
| Vaughan | ON | L4H, L4J, L4K, L4L, L6A |
| Whitby | ON | L1M, L1N, L1P, L1R |
---
Other Services in Toronto
See all the services provided by us in Toronto, Ontario 👉 here 👈
You also might be interested in the following services within the area:
Industrial Millwright Services in Toronto, ON
Industrial Warehouse Storage in Toronto, ON
Machinery Crating & Packing in Toronto, ON
Location of our sales office:
120 Eglinton Ave E, Toronto, ON M4P 1E2, Canada 👇
---
FAQ
How much does it cost to move a printing press?
The cost to move a printing press varies based on several factors, including the size and weight of the printing press, the complexity of the move, the distance to the new location, any special handling requirements, and the level of service needed. At Rigging-Busters, we provide a customized quote to ensure you receive the best value tailored to your needs. Contact us today for a free, no-obligation estimate.
What is the best way to move a printing press?
The best way to move a printing press is to engage the services of experienced industrial printing equipment movers like Rigging-Busters. We specialize in moving printing presses and utilize state-of-the-art tools, equipment, and highly trained professionals to ensure a secure and smooth relocation. Our process includes a comprehensive equipment assessment, planning the move with attention to detail, using specialized rigging and transport techniques, and offering post-move support. This ensures that your printing press is moved efficiently, safely, and without damage.
What are the risks of moving a printing press?
Moving a printing press without proper planning and expertise can expose you to various risks, such as:
– Physical Damage: Improper handling can lead to scratches, dents, or more severe damage to the printing press.
– Operational Issues: Not calibrated and set up correctly after the move may result in operational inefficiencies or malfunctions.
– Safety Risks: Inadequate safety measures can risk the safety of the personnel involved in the move.
– Delays: Lack of coordination and planning can cause delays, impacting business operations.
– Legal Compliance: Non-compliance with local regulations and standards may lead to legal issues.