Are you in need of heavy equipment movers in Los Angeles, CA?
Look no further!
Our team of experienced equipment movers specializes in moving heavy equipment for industrial and commercial clients since 2007.
🤙 Contact us for FREE project estimation, and let us handle all your heavy moving needs…
---
Who We Are
As one of the leading heavy equipment moving companies in the Los Angeles area, we offer a wide range of services to meet your needs.
Our services include heavy equipment moving, assembly, disassembly, installation, maintenance, shipping, and transport. We can even handle international shipments for clients with global operations.
We understand the importance of properly handling and transporting your valuable equipment. That's why we use state-of-the-art equipment and techniques to ensure your heavy equipment's safe and efficient moving.
Our experts are trained to handle all types of industrial equipment, from large machinery to delicate medical equipment.
We have the resources and expertise to handle even the most complex and challenging equipment-moving projects.
Our heavy equipment movers utilize…
Precise Moving Techniques
Specialized Moving Equipment
Mechanical Tools
Hefty Load Moving Tools
Steel/Aluminum Gantries
Industrial Forklifts (3-100k lbs)
Truck-Mounted Cranes
Boom-Trucks Service
Semi-Trucks Service
Flat Bed Trucks
Air Ride Equipped Tractors
Trailers…
Don't trust just any company with your valuable equipment.
Choose a reputable and experienced heavy equipment moving company like Rigging-Busters.
We are fully licensed, insured, and bonded to provide industrial equipment moving services you can count on.
Our mission is to provide our clients with superior service and peace of mind.
We pride ourselves on our attention to detail, safety record, and timely completion of projects. Contact us today to discuss your heavy equipment moving needs and receive a free quote.
Trust Rigging-Busters to handle all your industrial equipment moving needs with care and expertise.
You can see all the services provided by our company in Los Angeles, California >>here<<
---
What We Can Move
Our industrial equipment moving specialists can handle/serve the following:
CNC Machines
Precision Industry Machines
Lathe Machines
Packaging Machines
Cutting Tools
Stamping Presses
Textile Machines
Plastic & Rubber Machines
Welding Machines
Metal Forming Machines
Aerospace Manufacturing Apparatus
Commercial Printing Machines
Wood Printing Machines
Printing Presses
Folding & Paper Cutting Machines
Machines for Automotive Industry
Food & Beverage Processing Machines
Other Weighty Equipment…
😲 Watch the excellent 3x minutes video below on how our experienced crane partner rocks, demonstrating equipment rigging & relocating craft in reality (they are the best in years)…
Before beginning ANY moving equipment project, our heavy-duty movers' team assesses your gear and develops a transportation plan to minimize downtime for your business…
---
How We Estimate Projects
Required moving/relocation works are estimated each time individually!
It depends on many factors, such as:
Weight, dimensions, structure, and quantity of the items.
Distance and complexity of the movement/skidding route.
Working space characteristics and how uneven the floors are.
Are there any stairs we need to take into account to get the job done?
Loading, unloading, and other manipulations are required.
Whether crating/packing/unpacking service is necessary.
If mounting/dismantling works are needed or not.
Whether transportation is required (and to what distance).
How many industrial movers and erectors are required?
What are special heavy moving tools needed (and for how long)?
Other additional works explicitly tailored to your case.
---
Service Area
We provide industrial & commercial equipment moving services in Los Angeles (Southern California) and Beyond.
👇 Have a look at the map below… 👇
Moving equipment locally or internationally is possible with us. We can serve you by providing the best prices w/o additional questions…
---
Key Advantages
We provide the following benefits for your business needs:
Fast and free professional project estimates so you can plan and budget accordingly.
Expert knowledge and experience in manipulating and maneuvering complicated machinery, ensuring a safe and successful move and transport.
A friendly and skilled team continuously trained to handle any heavy-duty job confidently and precisely.
Access to the right tools and equipment to get the job done right.
All the necessary licenses and permissions to perform heavy moving work in Southern California.
We always provide our service on time & at reasonable prices across many industries.
Oversized Machinery Movers
---
Other Services
See all the services provided by us in LA, CA, USA 👉 here 👈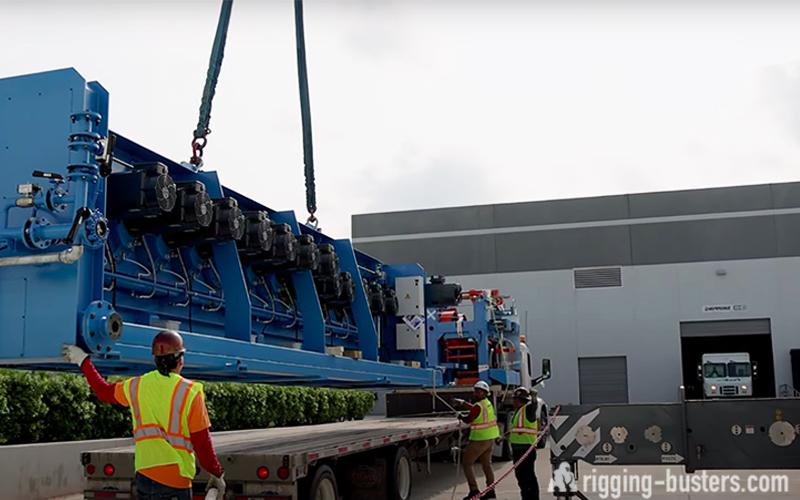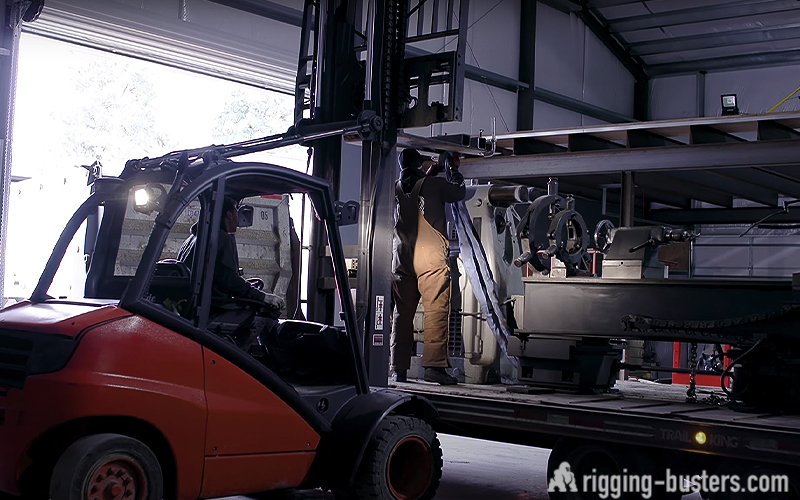 ---
FAQ
What types of equipment can heavy equipment movers handle?
Heavy equipment movers are typically equipped to handle a wide variety of commercial and industrial equipment, including bulldozers, excavators, backhoes, loaders, graders, scrapers, pavers, compactors, cranes, forklifts, conveyors, generators, pumps, air compressors, chillers, boilers, transformers, pressure washers, welders, lathes, mills, drill presses, boring machines, saws, punch presses, shears, press brakes, CNC machines, robotics, clean rooms, medical equipment, laboratory equipment, data center equipment, industrial ovens, furnaces, storage tanks, silos, containers, modular buildings, and shipping containers.

How do you ensure the safety of the equipment during transportation??
Safety is a top priority for heavy equipment movers. The equipment will be carefully inspected before transport to ensure that it is in proper working condition. The equipment will be secured to specialized trailers or flatbeds with heavy-duty straps, chains, and other securement devices. The equipment will be transported using specialized equipment, such as cranes, to ensure that it is loaded and unloaded safely.
What type of insurance coverage do you offer for the equipment during transportation?
Heavy equipment movers typically offer comprehensive insurance coverage for the equipment during transportation. This includes liability insurance, cargo insurance, and insurance for any damage that may occur during transport. The company will also provide certificates of insurance to the customer upon request.