Do you need to move heavy production equipment, machinery, or a complete industrial machine shop to a new site in Dallas, Texas?
Is there no idea how to do that on your own? 😕
Rigging-Busters is an equipment & machinery moving + rigging company in Dallas (everything in between & beyond). Our heavy rigging team can help you with such tough tasks by providing professional service quickly and smoothly (reasonable prices are included) 👌
We can move/hoist/transport any LARGE, CoMpLeX, delicate, and hefty apparatus up to 100+ tons (always with a personal touch to your case).
---
Who We Are
We have been a full-service company of heavy industrial, manufacturing, commercial gear, and machinery movers/haulers + riggers since 2007.
Forklift moving services can be supplied very quickly.
Any heavy-duty job is no problem, and the lowest prices are always provided (compared to larger competitors that usually offer higher rates).
Moving of Heavy Industrial Press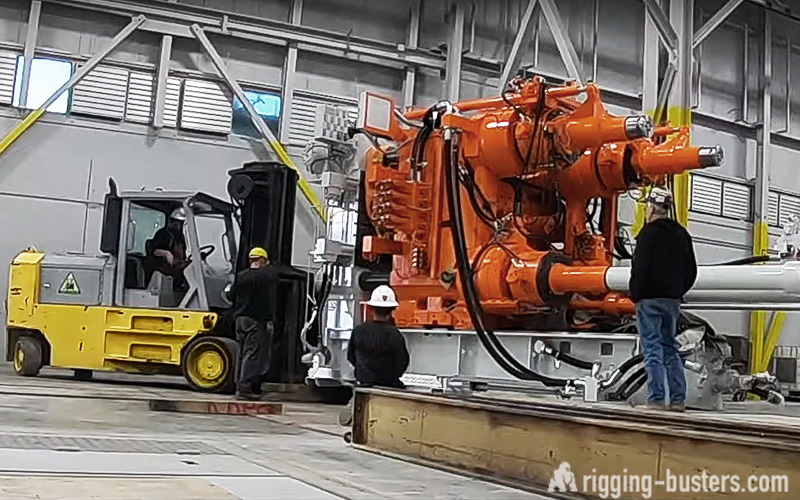 We have all the necessary tools, mechanisms, forklifts, transport, skills, and a lot of experience to handle all your "bulky" projects (despite their complexity).
Some know-how tweaks & tricks are also possible 🧙
To lift, hoist, skid, erect, relocate, load, unload, move, and haul large or small, complicated, and heavy manufacturing machines is a specific and challenging work (that is more craft, we believe).
Skidding of a Weaving Machine using a Forklift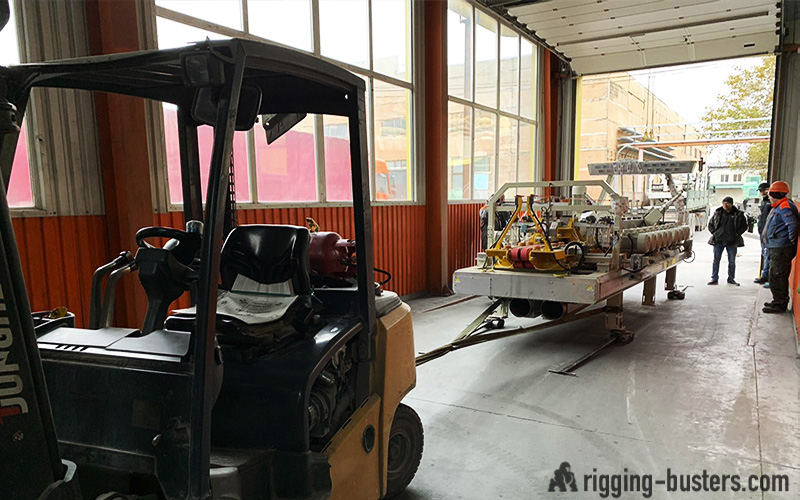 Our professional industrial heavy movers + riggers team utilizes…
Precise Moving Techniques
Specialized Equipment & Mechanical Tools
Heavy Load Moving Tools
Steel/Aluminum Gantries
Heavy Forklifts (3-100k lbs)
Truck-Mounted Cranes
Boom-Trucks
Semi-Trucks
Flat Bed Trucks
Air Ride Equipped Tractors
Trailers
…to haul/move complicated, sensitive, and expansive loads safely (without any damage).
Heavy Manufacturing Machinery Moving to a New Site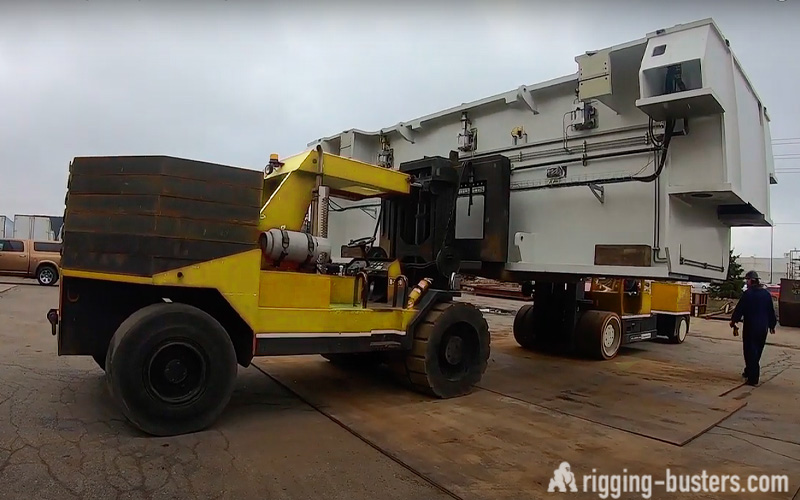 Affordable Industrial Equipment Relocation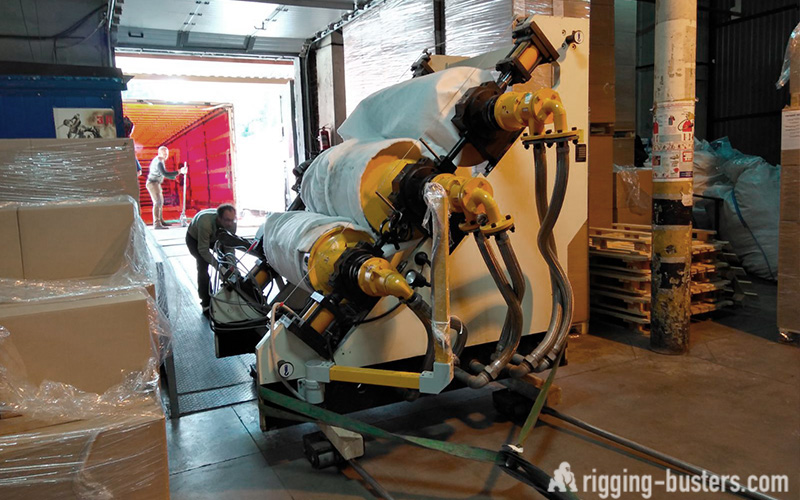 We can also crate & pack any machine, gear, and assemblies for domestic or international transportation/shipping.
Machinery Crating and Lifting for Transportation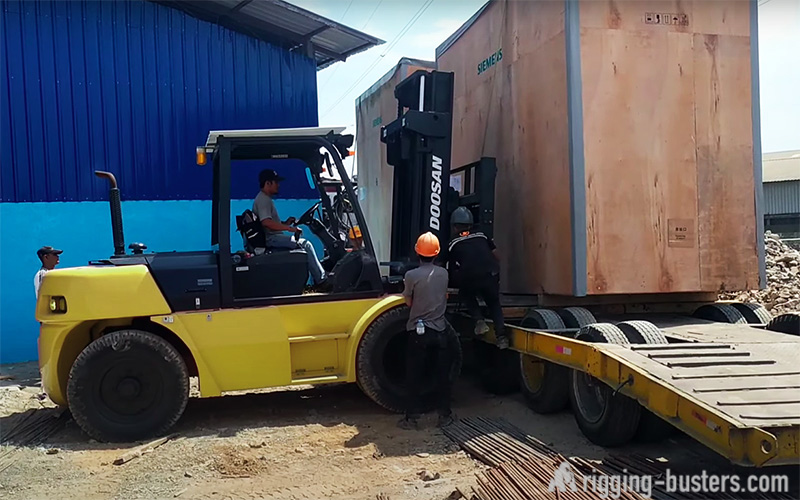 All the required licenses & permissions for the heavy industrial machinery moving/hauling and rigging works are in place (upon your request).
Our heavy moving + specialty rigging company is fully insured to cover all the related risks.
The lowest prices & personal touch is always guaranteed!
You can see all the services provided by us within the city of Dallas, Texas >>here<<
---
What We Can Move
Our advanced industrial rigging & moving specialists can handle:
CNC Machines
Precision Industry Machinery
Lathe Machines
Packaging Machines
Cutting Tools
Stamping Presses
Textile Machines
Plastic & Rubber Machines
Welding Machines
Metal Forming Machines
Uninterruptible Power Supply (UPS)
Container Loading/Unloading
Commercial Chillers
Bulky Motors
Weighty/Oversized Safes & Strongboxes
Industrial Power Generators
Government Electric Transformers
Electrical Power & Distribution Transformers
Aerospace Manufacturing Machines
Aircrafts
Aircraft Engines
Aircraft Simulators
Aeronautic Apparatus
Rockets
Jets Propulsion
Machine Tool Manufactures
Commercial Printing Machines
Wood Printing Machines
Printing Presses
Folding & Paper Cutting Machines
Machines for Automotive Industry
Food & Beverage Processing Machines
Machines for Breweries
Pharmaceutical Processing Machines
Cosmetics Processing Apparatus
Industrial & Chemical Processing Gear
Lab & Medical Apparatus
IT Hardware & Server Racks
Data Centers
Watch the amazing 3x minutes video below on how our crane partner rocks, demonstrating heavy rigging & moving craft in reality 👇
Heavy Machinery Movers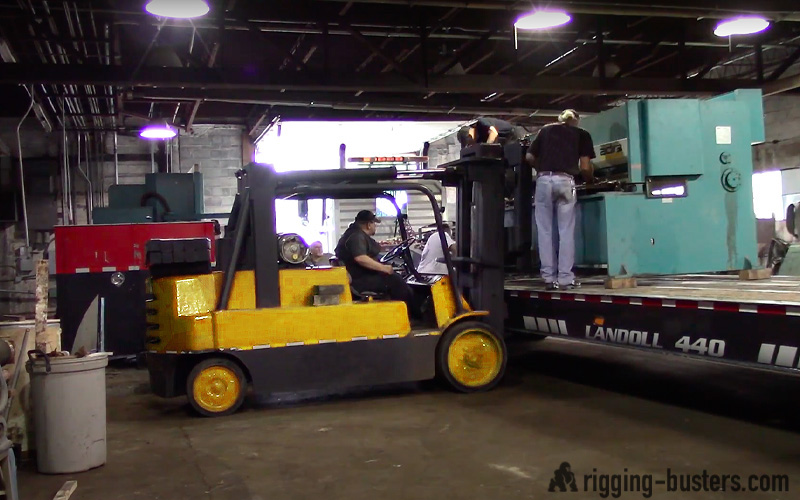 New Machinery Hauling & Unloading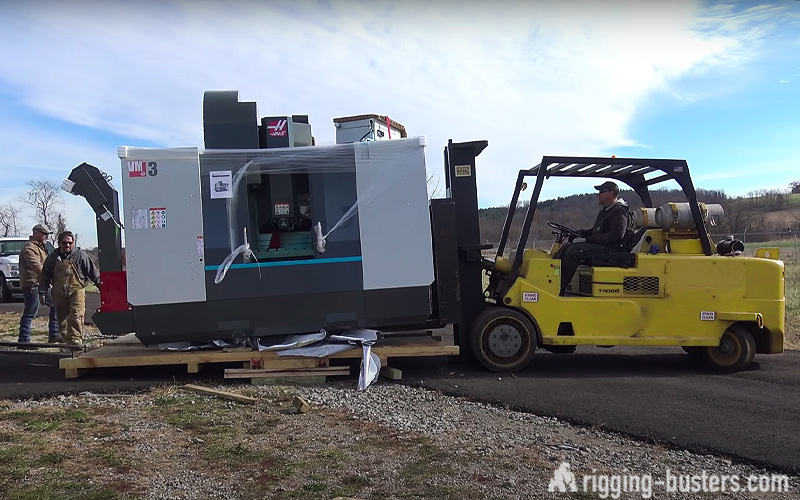 Commercial Laminating Machine Moving/Skidding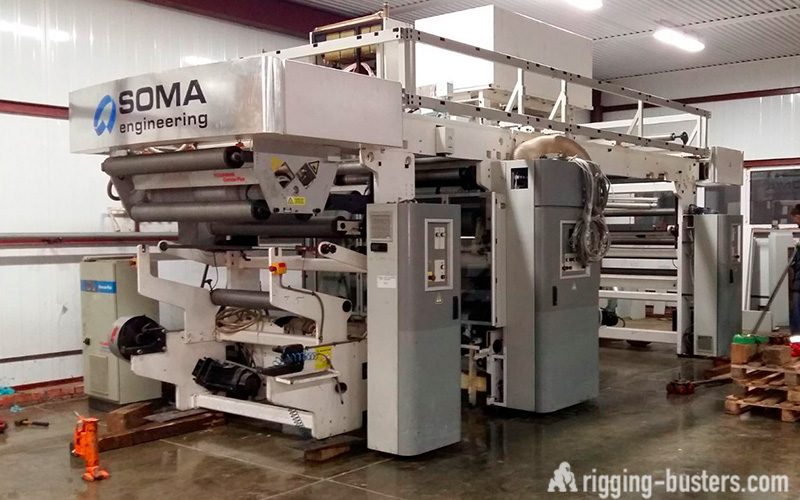 Moving of Bulky Medical Imaging Equipment (Tomograph)
Before beginning ANY relocation project, our heavy-duty movers/haulers assess your gear and develop a transportation plan to minimize downtime for your business.
---
How We Estimate Projects
Required moving/transport works are estimated each time individually!
It depends on many factors such as:
Weight, dimensions, structure, quantity of the items
Distance and complexity of the movement/skidding/hauling route
Working space characteristics and how uneven the floors are there
Are there any stairs we need to take into account to get the job done?
Loading, unloading, and other manipulations required
Whether crating/packing/unpacking service is needed
If mounting/dismantling works are required or not
Whether transportation is required (and to what distance)
How many industrial movers and riggers are required
What special heavy moving tools are needed (and for how long)
Other additional works tailored specifically to your case
---
Service Area
We provide heavy industrial/commercial machinery moving services in Dallas (Texas, U.S.) and Beyond.
Have a look at the map below 👇
We cover all the neighborhoods of Dallas city:
Downtown Dallas (Baylor District, The Cedars, Civic Center District, Dallas Arts District, Dallas Farmers Market, Deep Ellum, Design District, Main Street District, Reunion District, Riverfront District, South Side, Thanksgiving Commercial Center, Uptown, Victory Park, West End Historic District)

East Dallas (Alger Park/Ash Creek, Belmont, Buckner Terrace, Caruth Terrace, Casa Linda Estates, Casa Linda Park, Casa View, Casa View Haven, Claremont, Claremont Park, Eastwood, Edgemont Park, Forest Hills, Gaston Park, Greenland Hills, Hillridge, Hollywood Heights, Junius Heights, Lake Park Estates, Lakewood, Lakewood Heights, Lakewood Trails, Little Forest Hills, Lochwood, Lower Greenville, North Stonewall Terrace, Old Lake Highlands, Ridgewood Park, Santa Monica, Stonewall Terrace, University Meadows, Vickery Place, White Rock, Wilshire Heights)

Old East Dallas (Baylor/Meadows, Belmont Park, Bryan Place, Deep Ellum, Munger Place Historic District, Peak's Suburban Addition, Swiss Avenue)


Northeast Dallas (Abrams Place, Alexander's Village, Boundbrook Oaks Estates, Chimney Hill, Copperfield Community, Country Forest, Forest Highlands, Glen Oaks, Hamilton Park, Highlands West, Highland Meadows, High Oaks Addition, Jackson Meadow, L Streets, Lake Highlands, Lake Highlands Estates, Lake Highlands North, Lake Highlands Square, Lake Ridge Estates, Merriman Park Estates, Merriman Park North, Moss Farm, Moss Meadows, Northwood Heights, Oak Highlands, Oak Tree Village, Pebble Creek, Richland Park Estates, Rolling Trails, Royal Highlands, Royal Highlands Village, Stultz Road, Town Creek, Royal Lane Village, Walnut Creek Estates, Whispering Hills, White Rock Valley, Woodbridge, Woodlands on the Creek, University Manor, University Terrace, Urban Reserve)

North Dallas (Bent Tree, Bluffview, Devonshire, Elm Thicket, Greenway Parks, Preston Center, Preston Hollow, Vickery Meadows)

Far North Dallas (Bent Tree, Preston Highlands, Timberglen, Melshire Estates, Northwood Hills, Platinum Corridor)


Northwest Dallas (Arlington Park, Asian Trade District, Bachman, Design District, Love Field, Midway Hollow, Shannon Estates, Stemmons Corridor)

Oak Cliff Area (Arcadia Park, Beckley Club Estates, Bishop Arts District, Elmwood, Stevens Park Estates, Stevens Park Village, Tenth Street Freedman's Town, Western Park, Winnetka Heights, Wynnewood, East Kessler Park, Kessler Highlands, Kessler Park Estates, Kessler Plaza, Kessler Square, West Kessler, Kidd Springs, Kings Highway Conservation District, Lake Cliff, L.O. Daniel)

Redbird (Elderwoods/Elderoaks, Glenn Oaks, Wynnewood Hills)


Oak Lawn (Cityplace, Uptown, LoMac, Knox Park, Perry Heights, State Thomas, Turtle Creek, Oak Lawn, Victory Park, West Village)

Southeast Dallas (Arnold's Station, Buckner ParkCedar Run, El Barrio (Little Mexico)Elam, Fireside, Kleberg, Lake June, Parkdale, Pemberton Hill, Piedmont, Pleasant Grove, Pleasant Hills, Pleasant Mound, Riverway Estates/Bruton Terrace, Rylie, Seagoville/Dallas, Scyene, Spruce Square, Urbandale, Woodland Springs)

Far South Dallas (Bonton, Dixon Circle, Highland Hills)

South Central Dallas (Cedar Crest, Skyline Heights)

Old South Dallas/Fair Park (Exposition Park, Fair Park, Mill City, Owenwood, Jubilee Park, Dolphin Heights, Wheatley Place, Monterey Gardens, Edgewood, South Boulevard/Park Row, Magnolia Park, Alta Park)

West Dallas (Eagle Ford, Greenleaf Village, La Bajada, La L'aceate, La Loma, Lake West, Ledbetter Gardens, Los Altos, Muncie, Western Heights, Westmoreland Heights, Trinity Grove)
Moving equipment locally or internationally is possible with us.
We also operate throughout Dallas County, TX (everything in between & beyond):
Dallas
Coppell
Garland
Irving
Carrollton
Addison
Richardson
Duncanville
Mesquite
DeSoto
Grand Prairie
Rowlett
Lancaster
Cedar Hill
Seagoville
etc…
---
Key Advantages
We can provide the following benefits to you:
Quick & Free estimate of your "heavy" projects
Guaranteed lowest rates (at least 5% lower than any bigger competitor)
The local team of heavy movers, haulers, and riggers
Know-how to manipulate & maneuver complicated apparatus
Our staff is continually trained and always ready for any heavy-duty job
We have all the right tools & gear to do the job done
We guarantee that your apparatus/machinery remains in the same condition
All the required licenses/permissions to perform the heavy moving/rigging works
We serve the whole city of Dallas (Texas), everything in between, and Beyond
---
Questions & Answers
What are Industrial Equipment & Machinery Movers?
Using special moving tools and mechanisms, these rigging specialists can move, skid, slide, haul, lift, and hoist heavy and complex gear. Usually, heavy apparatus installation & dismantling services are also provided by such experts. Extensive training is permanently required to perform such work since it can be very dangerous for "normal" people. Thus, if you need pro & affordable industrial equipment/facility relocation in Dallas (Texas), contact us by any means.

Why Hire Professional Equipment & Machinery Movers?
To lift, hoist, move, skid, relocate, haul, or transport a large, bulky, and very heavy weight is extremely difficult or even impossible without using special mechanical tools and knowing how to use them properly. Safety is a top priority in such an operation. So if you need affordable relocation services, contact us. We have more than 350x years of combined experience in heavy moving & rigging!

What are Machinery Riggers?
Machine riggers know how to fix (extremely) heavy loads to lift correctly, hoist, move, skid, erect, or haul them using ropes, hooks, chains, and other special moving tools/instruments. Many businesses rely on such specialty rigging companies.

How Many Advanced Machinery Movers & Riggers Do You Need for Your Project?
That hugely depends on your specific case. Various heavy-moving projects require different workforce resources. We estimate that each time individually based on business & environmental requirements. Please refer to the How We Estimate Projects part above for more info. Moving equipment locally or internationally is also within our ability!

How Much Do Heavy Machinery Movers/Riggers Cost in Texas (USA)?
You can consider the average salary (52k USD per Year) of professional machinery movers/riggers on the TX market as a reference point. The final price for your project depends on the work volume, the complexity of the job, and a provided discount. Please call us directly to get the price OR request a FREE quote. We guarantee that you get affordable relocation services from us (our main competitors usually offer higher rates)!

Do You Provide Heavy Rigging and Moving Services Only within Dallas, Texas?
Rigging-Busters has many rep offices & partners throughout the US, Canada, and the UK. We also have a big heavy moving & rigging team in Ukraine (Eastern Europe). There is our presence in the major industrial locations in those countries. Here you can find more information about the key service areas where we provide our professional service. Texas is a top US state for us regarding heavy-duty work volume.

Which Industries Can You Serve?
We can serve any industries where bulky machines/apparatuses are used. There is absolutely no link to specific loads within any facility. We can outperform any larger competitors on the market. Our pro team can also handle even government electric transformers and machine tool manufacturers. Affordable industrial gear relocation + the lowest rates are guaranteed!

Do You Provide Forklift Moving Service in Dallas, TX?
Yes, our forklift moving company can deliver the service quickly upon your request.
---
Other Services
You can see all the services provided by us within Dallas, Texas >>here<< 💡